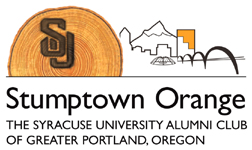 ****************************************************************************************************************

***************************************************************************************************************
Join us at OMSI Science Pub on May 19
Who cares if you have a B.A, or a B.S.? You don't have to be a science major to enjoy OMSI's Science Pub! Join Flir Systems physicist John Lester Miller and learn about the world of infrared imaging. Enjoy a cool adult beverage as you expand your knowledge of a cool technology. See the Events page for details..
---
The club helps out Admissions
| | |
| --- | --- |
| | Thanks to a half-dozen alums who helped support SU's Office of Admissions on April 6. Recruiter Lisa Raney (left) was in town to help persuade some admitted high school seniors to choose Syracuse as their college. The club members shared their thoughts and, in one case, her resaurant in the pursuit of the Class of 2019. See details here. |
---
National Orange Day celebrated with spuds
Eight Stumptowners joined other volunteers at the Oregon Food Bank on March 28 to do some good and mark SU's 145th birthday at the same time. Above (left to right) Jim & Ronnie Rudolph, Molly Gearn and Nelson Atkin all 'tatered down.
Check out a photo summary of the day here.
---
Orange Central/Homecoming/Reunion Weekend set
When our own George Gearn ('54) was a student on Piety Hill, one of his jobs was to fire the Archbold Stadium cannon whenever the Orange scored a touchdown.

Last fall, when George was back for his60th reunion, he found his old ordnance. What memories await you when you return to campus? Find out during Orange Central 2015 from Oct. 22 - 25. You can learn more about Homecoming activities by going to http://orangecentral.syr.edu/.
---
Game watches are done, for now...


A dozen Stumptowners gathered on Feb. 28 to watch SU take on Duke in men's basketball.

The outcome was not what we would have liked, but (as we always do) the group enjoyed itself. Here's a summary.
---
A rare chance to meet an SU faculty member ... over a glass of wine
Many thanks to all who came out on Feb. 26 to see a thought-provoking playand meet a fine director and representative of our University.

Timothy Bond shared his thoughts on the play, Other Desert Cities, the SU Drama Department and Syracuse Stage.

You can see a summary of the event here.
---
A Night at the Symphony
We had a healthy group of 17 who came out to hear Carmina Burana on Feb. 7 at the Arlene Schnitzer Concert Hall. The Oregon Symphony knocked it out of the park -- and the sold-out audience jumped to their feet in appreciation.
Speaking of sell-outs, a handful of folks missed out on this opportunity because they waited too long to order tickets. Don't make the same mistake with Other Desert Cities -- the best seat selection goes to the early bird!
---
Meet our co-presidents
Michael Cook ('82) and Mary Dickinson Jensen ('13) were elected our club co-presidents at our annual meeting on June 11, 2014.

For details of the meeting, click here. For minutes, go here.
---
Have you renewed your annual club membership?
Show your Orange pride by flashing a little green! It's time to "re-up" your club membership through June 2015.
Your tax-deductible annual membership helps support the club's events, demonstrates your commitment to the Stumptown Orange, and even gets you price breaks on tickets for some club activities. To pay your annual membership online, just click here.
And while you're at it, please consider making a donation to the club's Student Grant Fund.
---
Club details ...
Mary Dickinson Jensen (A&S '13) and Michael Cook (ENG '82) are club co-presidents. They head up a group of officers who comprise a board of directors.
The club was chartered in 2007 and our current by-laws were adopted in 2014. Our first meeting took place July 11, 2007. We've been active with events and projects ever since.
Our most recent annual business meeting took place on June 11, 2014. Read the minutes here.

If you have questions or would like to join, Michael can be reached at MLC3860@yahoo.com, or contact Mary at mimi11.mary@gmail.com.
---
The Stumptown Orange Website was last updated on May 5, 2015.