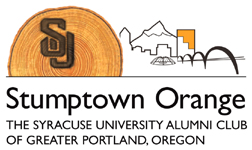 ****************************************************************************************************************

***************************************************************************************************************
Westside project chosen for National Orange Day project
Join us April 26 from 9am to noonat the Hillsboro Public Library as we volunteer to help out with their annual fundraiser. We'll be doing room preparation and book sorting until noon. For details, please go to the Events page.
---
Shakespeare fans, rejoice!
Portland Center Stage's current production of Othello features SU alum Nikki Coble ('01, VPA) in the lead role of Desdemona.

That's Nikki to the right with Daver Morrison as Othello.

Stumptown Orange members can get discounted tickets for the performance of their choice when ordering by phone or online by using the promo code ORANGE (what else would you expect, right?). Tickets are as low as $20 for certain performances, or $10 off for the rest. The production runs from April 5 - May 11.

Use the promo code at either www.pcs.org or by calling the box office at 503-445-3700. You can buy up to eight tickets using the code ORANGE,

Thanks to Portland Center Stage for extending this offer to the club.
---
Happy Birthday, 'Cuse!
Syracuse, whose athletic tradition is forever tied to the number 44, turned 144 years young on National Orange Day, March 24. Alumni around the country sent video birthday wishes, including several Stumptown Orange. You can see their messages here. Scroll down to the "Load more" button, click it, then scroll down some more. You'll start seeing familiar faces with video #111.
The club will mark SU's birthday with our spring day of community service, probably toward the end of April. Check back here for details as soon as they are ironed out.
---
Well, that was quicker than we'd hoped!
Dayton took the Orange out of the NCAA men's basketball tournament on March 22 with a 55-53 upset victory. But it didn't the dampen the spirits too much of the 21 Stumptowners who gathered at Macadam's. Check out the watch party report.

If you missed our first-game soiree on March 20, check out our special visitor and good luck mascot, Wilkins!
---
I'm in ... are
YOU?
If you look over to the upper right, you'll learn about SU's I'm In campaign to bolster the University's athletic budget in light of our move to the Atlantic Coast Conference. The ACC wants Syracuse to upgrade some of its athletic facilities to be more in line with other schools in the conference.
Your contributions will go to training and rehab equipment, coaches' trips to recruit top prospects, scholarships for student-athletes, support for summer classes and more.
Donations of $44 or more by alums who have paid their club dues will earn them an I'm In t-shirt. Need to pay your dues? Well, we've got an I'm In special underway: $10 gets your dues paid up through June 2014. So jump In!
Pay your dues by clicking here.
Make an I'm In donation by clicking here.
---
Have you renewed your annual club membership?
Show your Orange pride by flashing a little green! It's time to "re-up" your club membership through June 2015. You can do so for just $20 during the I'm In special.
Your tax-deductible annual membership helps support the club's events, demonstrates your commitment to the Stumptown Orange, and even gets you price breaks on tickets for some club activities. To pay your annual membership online, just click here.
And while you're at it, please consider making a donation to the club's Student Grant Fund.
---
Club details ...
Allison Park ('04, A&S ) is the club's president through June 2015. She she heads up a group of officers who comprise a board of directors.
The club's by-laws and charter were approved in May 2007. Our first meeting took place July 11, 2007. We've been active with events and projects ever since.
Our most recent annual business meeting took place on June 26, 2013.

If you have questions or would like to join, Allison can be reached at allisonkpark@gmail.com or at 503.819.8231.
---
The Stumptown Orange Website was last updated on April 15, 2014.