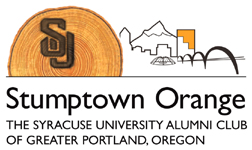 ****************************************************************************************************************

***************************************************************************************************************
It's Spring Time in Portland! Time for a PUB CRAWL!
Please join us May 11th for our Spring Pub Crawl. The fun starts at 3:00 at Montavilla Station (417 SE 80th Avenue Portland, OR 97215).
We'll then be heading to enjoy a pint or two at Roscoe's, Over and Out and Buckley's Catch.
If you'd like to join us along the way txt Aaron at 503-720-1723 to join mid crawl.
***************************************************************************************************************
Thanks for pulling your weight...
and then some on April 27, when a small but intrepid band of Stumptowners took to Forest Park to show the English Ivy what for! Click on the photo for a summary of the event.
---
The thrill of victory ... the agony of you-know-what!
C'mon, admit it: you didn't think 'Cuse would make the Final Four, now did you? Boy, did they overachieve once the Big Dance started! Check out some of our tournament watch parties here.

---
New shirts are in...
Our club t-shirts now come in ash gray as well as navy blue. They cost $20 and can be ordered from club treasurer Bob Gates, rgates1411@yahoo.com. Both versions sport these front and back designs:
---
Seventh Annual Student Send-off is July 21



The third Sunday in July should be a fun day for our club. That's when we'll meet the newest local Orange and wish them and local SU upperclassmen good luck in the upcoming semester.

A big thanks to Jan and Ron Mittelstaedt ('63) for hosting this year's BBQ.


Last year's sendoff was our biggest event ever. For a summary of it, click here.

---



Second annual Do You BLEED Orange blood drive set for Sep. 7


David Dayton ('95) is ready, are you? Our fall community service project will be another collaboration with Macadam's, the American Red Cross and other local alumni clubs. Last year's drive succeeded in collecting 40 units of blood. We'll shoot for a similar result this fall.

The drive takes place on Sep. 7, in conjunction with our first football watch party of the year, when 'Cuse faces Northwestern. check back here later in the year to sign up to donate blood and for a specific game time.

---
Have you renewed your annual club membership?
Show your Orange pride by flashing a little green! It's time to "re-up" by paying $20 for your club membership through June 2014.
Your tax-deductible annual membership helps support the club's events, demonstrates your commitment to the Stumptown Orange, and even gets you price breaks on the club t-shirts and on tickets for some club activities. To pay your annual membership online, just click here.
And while you're at it, please consider making a donation to the club's Student Grant Fund.
---
Club details ...
Rob Kweit ('67, A&S ) is the club's president. He heads a group of six officers who comprise a board of directors.
The club's by-laws and charter were approved in May 2007. Our first meeting took place July 11, 2007. We've been active with events and projects ever since.
Our most recent annual business meeting took place on June 20, 2012. Click here for a brief summary of that meeting.

If you have questions or would like to join, Rob can be reached at rkweit@msn.com or at 503.223.4903.
---
The Stumptown Orange Website was last updated on April 29, 2013.