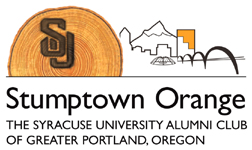 ****************************************************************************************************************

***************************************************************************************************************
We're test-driving sports pubs
This school year we are going to "audition" a number of bars and sports pubs with the goal of eventually picking one or two to be our regular game watch locations. Those who attend a given watch party will have the chance to provide feedback on the venue following the event.
Our next game watch will be Oct. 10 at 12:30pm at Migration Brewing at 2828 NE Glisan in Portland. We'll take the opportunity of the game with South Florida to hold our annual meeting. We'll keep it brief, but conduct some overdue business, like officer elections and collecting dues. .
Thanks to Michael Cook ('82) and Mary Dickinson-Jensen ('13) who served as club Co-presidents for the past year. Michael's term has ended and Mary is stepping down for personal reasons.
Ken Kane ('75) has stepped forward to put together a leadership team which will be forwarded to membership for election at the annual meeting. Of immediate need is someone to be our Communications Manager ... in other words, someone to oversee the club's electronic communication. If you have a knack for e-mail, the Web and social media, please consider taking on this role for the club. If you are interested, please contact Ken at ken@woodbloom.com or 503.246.6462
503.246.6462.
---
Fall club calendar filling up fast
In addition to the watch party and annual meeting on Oct. 10, we've got a Pumpkin Carving and a Museum Crawl in our future. Check out the Events Page for details.
---
Blood drive yields 26 units for Portland
Thanks to everyone who came out for the game and the opportunity to help the Portland community on Sep. 12. For photos and details of the Do You BLEED Orange? event, click
here
.
---
Student Send-off combines info, food and fun
Thanks to all 27 participants in our Student Send-off on Aug. 8, but especially to our host Christie Martin ('99) (above, right). Like many of the other alumni who attended, she took time to meet the newest Orange, including Kennedy Johnson and her mother, Susannah. For more on the event, click here.
---
Orange Central/Homecoming/Reunion Weekend set
When our own George Gearn ('54) was a student on Piety Hill, one of his jobs was to fire the Archbold Stadium cannon whenever the Orange scored a touchdown.

Last fall, when George was back for his60th reunion, he found his old ordnance. What memories await you when you return to campus? Find out during Orange Central 2015 from Oct. 22 - 25. You can learn more about Homecoming activities by going to http://orangecentral.syr.edu/.
---
Have you renewed your annual club membership?
Show your Orange pride by flashing a little green! It's time to "re-up" your club membership through June 2016.
Your tax-deductible annual membership helps support the club's events, demonstrates your commitment to the Stumptown Orange, and even gets you price breaks on tickets for some club activities. To pay your annual membership online, just click here.
And while you're at it, please consider making a donation to the club's Student Grant Fund.
---
Club details ...
The club is run by a group of officers who comprise a board of directors.
The club was chartered in 2007 and our current by-laws were adopted in 2014. Our first meeting took place July 11, 2007. We've been active with events and projects ever since.
Our most recent annual business meeting took place on June 11, 2014. Read the minutes here.

If you have questions or would like to join us, contact Ken Kane, ken@woodbloom.com, 503.246.6462
503.246.6462.
The Stumptown Orange Website was last updated on Sep.28, 2015.