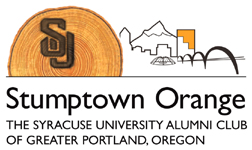 ****************************************************************************************************************

***************************************************************************************************************
Welcome to March Madness!
Keep an eye on this Website for the latest information on Stumptown Orange watch parties. Next up:

Sat., March 1, 1pm
SU at Virginia
Join us for the game at Macadam's, 5833 SW Macadam Av., Portland
---
I'm in ... are YOU?
If you look over to the upper right, you'll learn about SU's I'm In campaign to bolster the University's athletic budget in light of our move to the Atlantic Coast Conference. The ACC wants Syracuse to upgrade some of its athletic facilities to be more in line with other schools in the conference.
Your contributions will go to training and rehab equipment, coaches' trips to recruit top prospects, scholarships for student-athletes, support for summer classes and more.
Donations of $44 or more by alums who have paid their club dues will earn them an I'm In t-shirt. Need to pay your dues? Well, we've got an I'm In special underway: $10 gets your dues paid up through June 2014. So jump In!
Pay your dues by clicking here.
Make an I'm In donation by clicking here.
---
Have you renewed your annual club membership?
Show your Orange pride by flashing a little green! It's time to "re-up" your club membership through June 2014. You can do so for just $10 during the I'm In special.
Your tax-deductible annual membership helps support the club's events, demonstrates your commitment to the Stumptown Orange, and even gets you price breaks on tickets for some club activities. To pay your annual membership online, just click here.
And while you're at it, please consider making a donation to the club's Student Grant Fund.
---
Club details ...
Allison Park ('04, A&S ) is the club's president through June 2015. She she heads up a group of officers who comprise a board of directors.
The club's by-laws and charter were approved in May 2007. Our first meeting took place July 11, 2007. We've been active with events and projects ever since.
Our most recent annual business meeting took place on June 26, 2013.

If you have questions or would like to join, Allison can be reached at allisonkpark@gmail.com or at 503.819.8231.
---
The Stumptown Orange Website was last updated on Feb. 27, 2014.