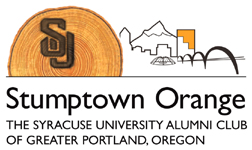 ****************************************************************************************************************

***************************************************************************************************************
Farewell friend, Bob Gates
It's with extreme sadness that we report the passing of our club treasurer, Bob Gates ('61). Bob was doing something he loves, fly fishing with friends in Canada, earlier this month when he took ill. He passed away in a Canadian hospital, surrounded by his wife Janice (above) and their two children. Bob was a stalwart Stumptowner -- in fact, his involvement with Syracuse alums in Oregon predated our club. He was a member of the statewide alumni club back in the early 2000s, before it disbanded. He and Janice hosted a Student Send-off for that club, as well as one for we Stumptowners several years later. His sardonic wit and impish smile, not to mention his dedication to our club and university, will be missed.
When specifics about a memorial service are announced, we'll have them here.
We learned of Bob's passing on July 17, the same day of our annual pub crawl. We took the opportunity to toast our friend as we moved from venue to venue that night...
---
A couple of multi-alumni club events for your consideration....
Join alums of other ACC and East Coast schools for the Portland Timbers soccer game on Sep. 7.

But tickets (at a group rate of $38) must be bought by July 31.So hop to it, Timber fans! To order your tickets, click here.
On Nov. 1, come cheer on the Orange at Macadam's Bar & Grill as they take on North Carolina State... then do some good at the same time by donating a unit of blood. It's our third annual Do You BLEED Orange? blood drive, from 11:30 - 5pm.

This is the Stumptown Orange's fall service project, but we can't succeed without the help of Macadam's, the American Red Cross and other Portland alumni clubs.

We invite our ACC brethern and all alumni clubs which call Macadam's home to join us in this effort!

Details on both of these multi-alumni club events can be found on our Events page.
---
Student Send-off slated for Aug. 2
Thanks to Rich Meneghello ('93) and his wife Kirsten (right) for hosting our eighth-annual Student Send-off BBQ on Aug. 2. (You might remember their great Orange and Blue sport court from the 2012 Send-off.)

Our annual summer soiree welcomes new local students into the Syracuse family. Alums, university staff and returning students are also on hand, making for a fun afternoon. See the Events page for details.
---
Congratulate our new CO-presidents!
Michael Cook ('82) and Mary Dickinson Jensen ('13) were elected our club co-presidents at our annual meeting on June 11.

For detailsof the meeting, click here.
---
Small is beautiful



Bigger isn't always better. Threatening skies (which eventually cleared) kept turnout low for May 17's Vancouver art and history hike.

But the quartet who made the trek learns a lot about the city across the Columbia. Click here for details.
---
National Orange Day volunteer project struck a chord...
Many chords, in fact, since we were sorting CDs at the Hillsboro Public Library. Many thanks to Allison Park ('04) for organizing the project.

Fifteen Stumptowners helped the library prepare for its semi-annual book and media sale. For more, click here.
---
Happy Birthday, 'Cuse!
Syracuse, whose athletic tradition is forever tied to the number 44, turned 144 years young on National Orange Day, March 24. Alumni around the country sent video birthday wishes, including several Stumptown Orange. You can see their messages here. Scroll down to the "Load more" button, click it, then scroll down some more. You'll start seeing familiar faces with video #111.
The club will mark SU's birthday with our spring day of community service, probably toward the end of April. Check back here for details as soon as they are ironed out.
---
I'm in ... are
YOU?
If you look over to the upper right, you'll learn about SU's I'm In campaign to bolster the University's athletic budget in light of our move to the Atlantic Coast Conference. The ACC wants Syracuse to upgrade some of its athletic facilities to be more in line with other schools in the conference.
Your contributions will go to training and rehab equipment, coaches' trips to recruit top prospects, scholarships for student-athletes, support for summer classes and more.
Donations of $44 or more by alums who have paid their club dues will earn them an I'm In t-shirt. Need to pay your dues? Well, we've got an I'm In special underway: $10 gets your dues paid up through June 2014. So jump In!
Pay your dues by clicking here.
Make an I'm In donation by clicking here.
---
Have you renewed your annual club membership?
Show your Orange pride by flashing a little green! It's time to "re-up" your club membership through June 2015.
Your tax-deductible annual membership helps support the club's events, demonstrates your commitment to the Stumptown Orange, and even gets you price breaks on tickets for some club activities. To pay your annual membership online, just click here.
And while you're at it, please consider making a donation to the club's Student Grant Fund.
---
Club details ...
Mary Dickinson Jensen (A&S '13) and Michael Cook (ENG '82) are club co-presidents. They head up a group of officers who comprise a board of directors.
The club was chartered in 2007 and our current by-laws were adopted in 2014. Our first meeting took place July 11, 2007. We've been active with events and projects ever since.
Our most recent annual business meeting took place on June 11, 2014.

If you have questions or would like to join, Michael can be reached at MLC3860@yahoo.com, or contact Mary at mimi11.mary@gmail.com.
---
The Stumptown Orange Website was last updated on July 30, 2014.