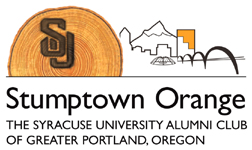 ****************************************************************************************************************

***************************************************************************************************************
Football meets phlebotomy on Sep. 12
Our fall community service project, tied to our first game watch of the season, takes place at a new venue...
Date: Sat., Sep. 12: Football game watch and Do You BLEED Orange blood drive
Football: from 11am on
Blood drive: 11:30am - 5pm
Where: The Civic Taproom, 621 SW 19th Av., Portland



This fourth-annual blood drive is a collaboration among the Stumptown Orange, The Civic Taproom, the American Red Cross and more than a dozen other local, football-crazed alumni clubs. Come join in the fun, and do some good for the community's blood supply in the process.

You can sign-up for a donation time online by going to http://www.redcrossblood.org/ and using the sponsor code:WhatColor

To learn more about the blood drive, click on the image below to see a segment from the cable access program Community Hotline...



Since Macadam's closed earlier this year, we've been without a gamewatch venue. While the club figures out permanent plans, alum Spencer Raymond ('10) is opening the doors of his establishment early for us on Sep. 12, at 11am. Come catch the second half of the SU-Wake Forest football game that morning, then roll up your sleeve to donate a unit of blood.
We invite over a dozen other Portland alumni clubs to join us in donating blood. To see how and who, click here.
To sign up for a blood donation or to volunteer to help staff the canteen inside the Bloodmobile, please contact Ken Kane at
503.246.6462 or ken@woodbloom.com.
---
Some changes in club leadership are coming...
Thanks to Michael Cook ('82) and Mary Dickinson-Jensen ('13) who served as club Co-presidents for the past year. Michael's term has ended and Mary is stepping down for personal reasons.
Ken Kane ('75) has stepped forward to put together a leadership team which will be forwarded to membership for election at an annual meeting to take place in the next few weeks. Of immediate need is someone to be our Communications Manager ... in other words, someone to oversee the club's electronic communication. If you have a knack for e-mail, the Web and social media, please consider taking on this role for the club. If you are interested, please contact Ken at ken@woodbloom.com or 503.246.6462
503.246.6462.
Please stay tuned for details about the annual meeting...
---
Student Send-off combines info, food and fun
Thanks to all 27 participants in our Student Send-off on Aug. 8, but especially to our host Christie Martin ('99) (above, right). Like many of the other alumni who attended, she took time to meet the newest Orange, including Kennedy Johnson and her mother, Susannah. For more on the event, click here.
---
The club helps out Admissions
| | |
| --- | --- |
| | Thanks to a half-dozen alums who helped support SU's Office of Admissions on April 6. Recruiter Lisa Raney (left) was in town to help persuade some admitted high school seniors to choose Syracuse as their college. The club members shared their thoughts and, in one case, her restaurant in the pursuit of the Class of 2019. See details here. |
---
National Orange Day celebrated with spuds
Eight Stumptowners joined other volunteers at the Oregon Food Bank on March 28 to do some good and mark SU's 145th birthday at the same time. Above (left to right) Jim & Ronnie Rudolph, Molly Gearn and Nelson Atkin all 'tatered down.
Check out a photo summary of the day here.
---
Orange Central/Homecoming/Reunion Weekend set
When our own George Gearn ('54) was a student on Piety Hill, one of his jobs was to fire the Archbold Stadium cannon whenever the Orange scored a touchdown.

Last fall, when George was back for his60th reunion, he found his old ordnance. What memories await you when you return to campus? Find out during Orange Central 2015 from Oct. 22 - 25. You can learn more about Homecoming activities by going to http://orangecentral.syr.edu/.
---
Have you renewed your annual club membership?
Show your Orange pride by flashing a little green! It's time to "re-up" your club membership through June 2016.
Your tax-deductible annual membership helps support the club's events, demonstrates your commitment to the Stumptown Orange, and even gets you price breaks on tickets for some club activities. To pay your annual membership online, just click here.
And while you're at it, please consider making a donation to the club's Student Grant Fund.
---
Club details ...
The club is run by a group of officers who comprise a board of directors.
The club was chartered in 2007 and our current by-laws were adopted in 2014. Our first meeting took place July 11, 2007. We've been active with events and projects ever since.
Our most recent annual business meeting took place on June 11, 2014. Read the minutes here.

If you have questions or would like to join, Michael can be reached at MLC3860@yahoo.com, or contact Mary at mimi11.mary@gmail.com.
---
The Stumptown Orange Website was last updated on Sep.2, 2015.