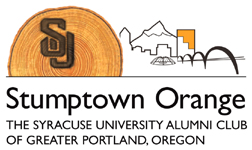 ****************************************************************************************************************

***************************************************************************************************************
Stumptown Orange Sports Coordinator Howard Groopman ('72) received a Hanukkah gift a little early from Ken Kane ('75): an authentic Orange t-shirt which Ken brought back straight from the Hillel office on campus. He presented it at halftime of the SU-Maryland watch party on Nov. 9. Click here for a summary of the afternoon.
---
Toys for Tots and ships for adults on Dec. 12!
Our next Stumptown Orange event is Dec. 12 at 7pm -- a night watching the holiday flotilla and collecting toys for those less fortunate.
We'll gather at Three Degrees, the bar at the RiverPlace Hotel at 1510 SW Harbor Way in the RiverPlace development downtown. Here's a map.
The holiday flotilla of brightly lighted ships will be passing by our windows shortly after 7pm. Come see the ships, have a drink and toast the holiday season. And please bring a new, unwrapped toy. We'll be collecting them for Toys for Tots.
For more information, please contact Mary Dickinson at mimi11.mary@gmail.com or 360.213.7789.
---
I'm in ... are YOU?
If you look over to the upper right, you'll learn about SU's I'm In campaign to bolster the University's athletic budget in light of our move to the Atlantic Coast Conference. The ACC wants Syracuse to upgrade some of its athletic facilities to be more in line with other schools in the conference.
Your contributions will go to training and rehab equipment, coaches' trips to recruit top prospects, scholarships for student-athletes, support for summer classes and more.
Donations of $44 or more by alums who have paid their club dues will earn them an I'm In t-shirt. Need to pay your dues? Well, we've got an I'm In special underway: $10 gets your dues paid up through June 2014. So jump In!
Pay your dues by clicking here.
Make an I'm In donation by clicking here.
---
WinterHawks hockey Jan. 17
Join the club on Friday, Jan.. 17 for some mid-winter fun with the Portland WinterHawks. We're putting together a discounted ticket pre-sale for the game. For details, contact Ken Kane at ken@woodbloom.com or 503.246.6462.
And if you check our Events page, you'll see a line-up of fun events stretching well into the spring of 2014.
---
Have you renewed your annual club membership?
Show your Orange pride by flashing a little green! It's time to "re-up" your club membership through June 2014. You can do so for just $10 during the I'm In special.
Your tax-deductible annual membership helps support the club's events, demonstrates your commitment to the Stumptown Orange, and even gets you price breaks on tickets for some club activities. To pay your annual membership online, just click here.
And while you're at it, please consider making a donation to the club's Student Grant Fund.
---
Club details ...
Allison Park ('04, A&S ) is the club's president through June 2015. She she heads up a group of officers who comprise a board of directors.
The club's by-laws and charter were approved in May 2007. Our first meeting took place July 11, 2007. We've been active with events and projects ever since.
Our most recent annual business meeting took place on June 26, 2013.

If you have questions or would like to join, Allison can be reached at allisonkpark@gmail.com or at 503.819.8231.
---
The Stumptown Orange Website was last updated on Nov. 28, 2013.