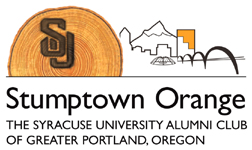 ****************************************************************************************************************

***************************************************************************************************************
Farewell Macadam's
We gathered one final time at Macadam's on Jan. 26 for the S.U.-North Carolina basketball game. We were sad ... and not just because the Orange lost, 93-83. It was also our last time at our favorite sports pub which is closing on Jan. 31.
It was nice to see SU mom Sally Wentross (above right) join us for the game, decked out in a 'Cuse shirt. We'll have more hoops watch parties -- at another location -- in the coming weeks.
We wish Tallie and Ryan Steele and their staff at Macadam's well as they begin the next chapter of their lives.
---
A Night at the Symphony
The discounted ticket sale for our night at the Oregon Symphony on Feb. 7 continues. Come hear Music Director Carlos Kalmar conduct the sonic spectacular that is Carmina Burana. Find details here. After the concert, we'll go to a nearby pub for a night cap.
---
Are you a Who[vian]?
Fans of the British TV show

Doctor Who

can take their passion for the title character even further, thanks to Newhouse School professor Anthony Rotolo (above, right). He's offering a free, online class in January,

Doctor Who in the Digital Age

. An article about Rotolo and his class ran in the

Washington Post

and

Vancouver Columbian

in early November.
Sound like fun? You can learn more about Prof. Rotolo's course and register for it here.
---
Thanks for coming ... and bleeding!
Thanks to blood donors like Rob Kweit ('67) we collected two dozen units at What Color Do YOU Bleed?III on Nov.1.

Inside Macadam's that day, we joined up with a few NC State alums in the back room to watch the Orange take on the Wolfpack.

Check out how the day went here.
---
A carving we did go
Several members of the Stumptown Orange brought their pumpkins, carving tools and imaginations to Migration Brewing on Oct. 27. They joined other ACC alumni for an evening of Jack O'Lantern-ing. Thanks to our own Erika Kirkland (second from left) who organized the event!
---
Good luck, John and Ellen!
Our second most ... uh, experienced Stumptowner (in terms of graduation year) has left us -- but only for the other side of the state. John Nesbitt ('58, Forestry) and his wife, Ellen, moved earlier in the fall to Wallowa County to be nearer to their daughter. We're going to miss Ellen and Stumpy John. Best of luck in your new "Enterprise," sir!
---
Congratulate our new CO-presidents!
Michael Cook ('82) and Mary Dickinson Jensen ('13) were elected our club co-presidents at our annual meeting on June 11.

For details of the meeting, click here. For minutes, go here.
---
Have you renewed your annual club membership?
Show your Orange pride by flashing a little green! It's time to "re-up" your club membership through June 2015.
Your tax-deductible annual membership helps support the club's events, demonstrates your commitment to the Stumptown Orange, and even gets you price breaks on tickets for some club activities. To pay your annual membership online, just click here.
And while you're at it, please consider making a donation to the club's Student Grant Fund.
---
Club details ...
Mary Dickinson Jensen (A&S '13) and Michael Cook (ENG '82) are club co-presidents. They head up a group of officers who comprise a board of directors.
The club was chartered in 2007 and our current by-laws were adopted in 2014. Our first meeting took place July 11, 2007. We've been active with events and projects ever since.
Our most recent annual business meeting took place on June 11, 2014. Read the minutes here.

If you have questions or would like to join, Michael can be reached at MLC3860@yahoo.com, or contact Mary at mimi11.mary@gmail.com.
---
The Stumptown Orange Website was last updated on Jan. 26, 2015.